Love or Hate Amtrak, 50 years…
…is a lot of railroading. And a lot of change. Today is the 50th anniversary of the day Amtrak actually began to haul passengers. On May 1st, 1971, the first train left New York City for Philadelphia at 5 minutes after Midnight. It was train #205, what was then called a "Clocker".
Amtrak began with no unified paint scheme. They ran with a castaway set of equipment, so a train might be a Union Pacific E-units pulling Illinois Central baggage cars and trailing Northern Pacific, Great Northern and Penn Central passengers cars – all in the same train. This went on for the first two or three years. Railfans call these years Amtrak's "Rainbow Years". In fact, the first Amtrak paint scheme was not unveiled until 1972…but that doesn't mean there wasn't an Amtrak painted locomotive on Day One.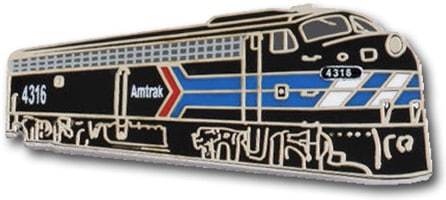 Penn Central E8A #4316 kept her number, but was rather hurriedly painted into what would later be called the "Day One" paint scheme. Amtrak is celebrating that first unit with a 50th Anniversary lapel pin. As you will see below, they are honoring 4316 by painting the latest locomotive design in the fleet with a "one off" paint scheme based on the "Day One" scheme.
Amtrak started with a motley collection of hand-me-down equipment (from 20 railroads!) and has evolved to what we see today, next gen Acela's being built now in New York and the new Chargers in California. Look at the "one-off" 50th anniversary paint they are applying to a special Charger locomotive. Number 301 will be running the system sometime in summer 2021.

Amtrak has been well covered by the hobby press, from Trains Magazine to your favorite video producers. There are even books dedicated to Amtrak paint scheme phases and this Highball Productions video dedicated to the workhorse of the first 25 years, the "F40, the Engine that Saved Amtrak".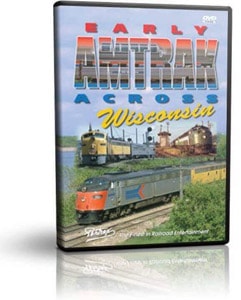 One of my favorite railfan videos, of all time, not just Amtrak, is the Pentrex show, "Early Amtrak Across Wisconsin". Don't let the location fool you. This is early Amtrak everywhere minus the Northeast Corridor. It is colorful and fun!
It is truly a rainbow of color – and fallen flags. How great is it to see Penn Central, Great Northern, Milwaukee Road, GM&O and much more – often on the same train! Great fun!
How long will Amtrak be running? They've been counted out so many times…in fact I'd bet that number is more than the 50 years they've survived! All I know is, I would not bet against Amtrak. They seem to keep rising from the near-dead.