What is Precision Scheduled Railroading
PSR? That's the shortened form of "Precision Scheduled Railroading". It's a complex — and controversial — railroad traffic management system that has been implemented across railway networks in Canada and by several Class 1 railroads in the United States.
We're going to dive into the controversy and the history of this new way of working the nation's railroad traffic. We'll also take a look at the man behind it and the impact PSR has made on the industry since the idea came to fruition.
Ready? Let's get into the details!
So… Precision Scheduled Railroading?
Precision Scheduled Railroading is a strategy used by railroads to accomplish low operating ratios by consolidating their networks through the utilization of new point-to-point delivery tactics and consistent departure schedules. The whole system was the brainchild of the late Hunter Harrison.
Since its introduction, PSR has been implemented by the majority of Class I railroads in North America. These include the following:
Canadian National CN)
Canadian Pacific Railway Limited (CP)
CSX Corporation
Norfolk Southern Corporation (NS)
Union Pacific Corporation (UP)
Kansas City Southern (KCS)
There is only one major network that is yet to use this strategy, Burlington Northern Santa Fe Corp Railway (BNSF). But, we'll talk about this in more detail later on.
What Are The Goals of Precision Scheduled Railroading?
Hunter Harrison asset out a few common goals that he expected (and wanted) to achieve through his new system. Later on, these goals became the working targets of the railways we previously mentioned.
The goals are as follows:
Consolidate rail networks
Boost asset velocity
Reducing crew members to maximize on employee capabilities
Improving fuel efficiency
Follow a point-to-point delivery tactic
Improving capacity dispersion
With all of that being said, the main target or "mission" if you will, was to lower a company's operating ratio (shortened to OR). This is how the railroad industry measures operational efficiency.
But Why Bother Lowering the Operating Ratio?
This is generally a question that precedes everything else we've discussed so far. But first, let's understand what "operating ratio" really means.
In simple terms, the operating ratio shows how much a particular company has to spend before they make one dollar. We'll give you an example so it's easy to get your head around.
For instance, say that a railway's OR is 60, then they would make 40 cents for every 60 cents they spend. 60 is, in fact, the level that most railroad companies who implement precision scheduled railroading are expecting (and hoping) to accomplish.
There are lots of strategies that railway companies can put in place to decrease their OR. This includes methods like taking old trains and railcars out of their fleet, including updated, new technology or equipment into their lines or trains, and decreasing their workforce expenses.
From what we know about PSR, we can safely say that it is the number one most common and effective method for reducing their operating ratio.
So, There Must Have Been Lane Closures, Right?
Yes! Once a railway company has decided to enact PSR in its entirety, they tend to take out their less efficient and shorter tracks for high volume ones.
This tactic greatly increases shareholders', CEOs', and investors' satisfaction but it's the main reason behind the scheme's controversy (which we'll discuss later) since it decreases customers', shippers', and IMCs' satisfaction.
Upon closure of these lanes, everyone who used the rails had to put up with incredible negative outcomes due to the changed run schedules and poor service.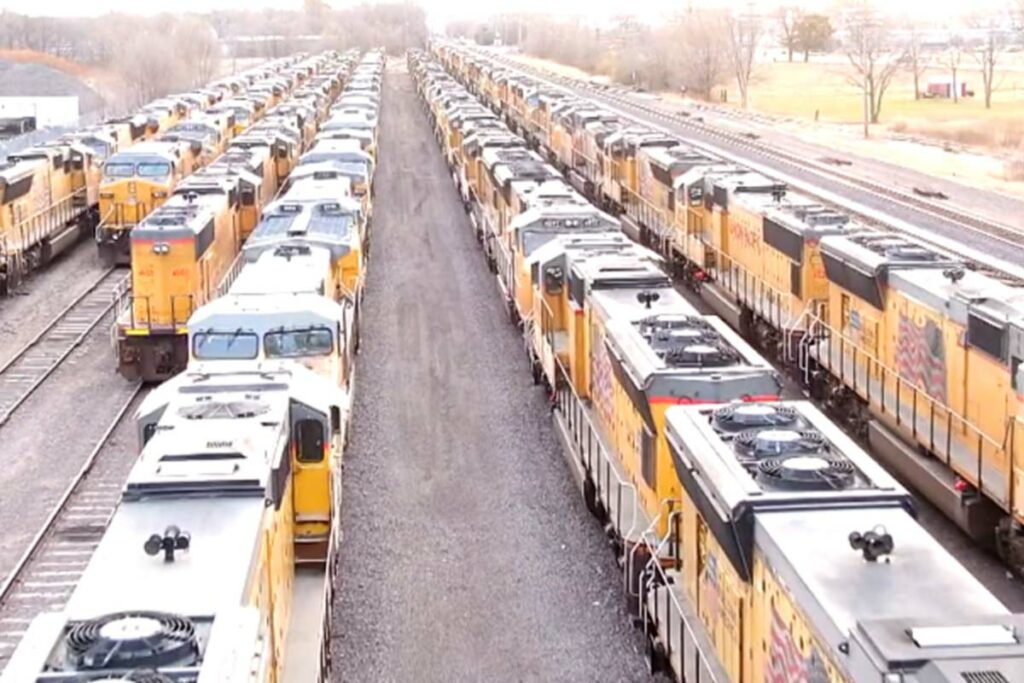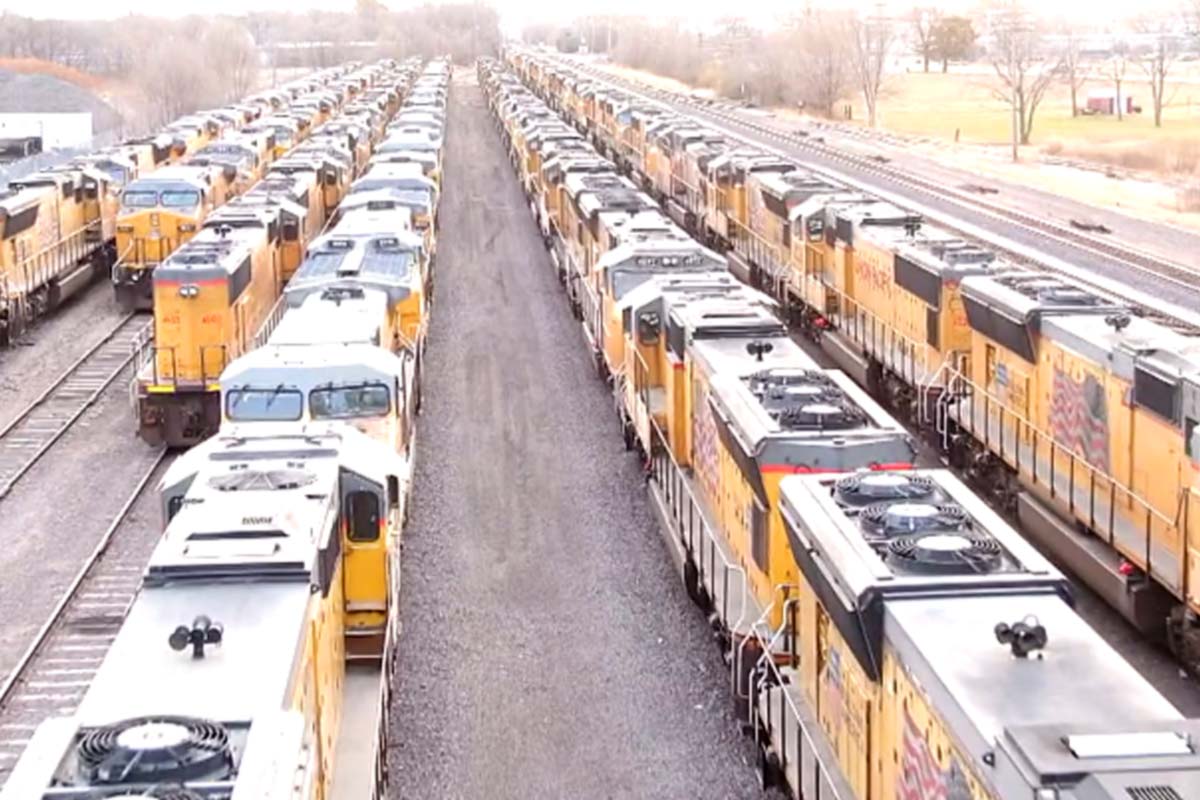 What's The Point-to-Point Delivery Method All About?
Before PSR came into being, the railroad companies utilized a hub-and-spoke method. This happened in a hump yard (which have all now been eliminated since the introduction of the new system). These locations let railcars dock in a terminal and they were then connected to other trains. Because of this, one car could get redirected multiple times before arriving at their final destination.
The new point-to-point system works by taking freight from its current place to its final destination in one run. In other words, there is no reshuffling or redirecting necessary. As you may already know, this lets shipments move a lot quicker. The aim is to reduce the number of times a car has to be touched from its origin to the destination.
The History of Precision Scheduled Railroading
PSR started life in the mind of Hunter Harrison. He went on to implement his strategy at Illinois Central which led to the dramatic decrease in their operating ratio. How much of a decrease, we hear you ask? Well, he managed to take it from 98 percent to 60 percent. That's quite a drop!
Seeing how much of a success his method was at Illinois Central, he moved to the Canadian National Railway to implement his vision here. This was a much larger network so it gave him the opportunity to see whether his idea was scalable. Here, his system dropped the Canadian National Railway's operating ratio by 11 percent.
Hunter Harrison then left Canadian National Railway and joined Canadian Pacific Railway. In 2012, the OR here was 80 percent. By 2017, after the implementation of his precision scheduled railroading scheme, it dropped to 58.6 percent.
After that, he continued his success at CSX. His reign here was, sadly, very short. However, he still managed to lower the operating ratio considerably. And since then, they have continued to employ his strategies and see an even larger decrease in their operating ratio.
With all of that being said, it wasn't all sunshine and roses (as you'll soon find out when we look at the disadvantages of this system).
Hunter Harrison faced extreme scrutiny and disregard from clients. Why? Because the schedules changed drastically and there were countless service issues. In fact, the STB (Surface Transportation Board) held a hearing due to service problems throughout the CSX network. To this day, they are monitoring how Class I railways use precision scheduled railroading incredibly closely across the whole of the United States of America.
The Benefits of Precision Scheduled Railroading
As always, it's far nicer to start with the benefits of something, rather than jumping straight into the negatives! So, that's exactly what we're going to do here.
It Boosts Shareholder Value
Since PSR works to increase margin and capital efficiency, it has ensured that the shareholder value has increased by billions of dollars.
Over the past 15 years (roughly), railroad stocks have been outperforming the rest of the transportation industry. This is quite surprising considering the history of the railroads in general and the deterioration of coal supplies. But, that's what precision scheduled railroading set out to do! And it sure has done it.
Since 2003, when Candian National Railway went from among the worst to floating on cloud nine, investors have requested (more demanded, to be completely honest with you) that other railroads keep up with these new margins.
It Increases Railway Network Capacity
We mentioned earlier that precisions scheduled railroading works to make railways more efficient. With that, comes less equipment stagnant in terminals, a more fluid track network, less congestion, and fewer unnecessary resources. Fab!
Because of this, less money is spent on acquiring pointless bits of kit. Each railway can then operate its best equipment and, in turn, doesn't need as many people "cluttering" the crew stations.
Efficiency is PSR's middle name.
It Balances and Simplifies the Railroad Network
The new system ensures that variables are eliminated — and if they can't be eliminated, they are drastically reduced. This ensures that networks can remain stabilized and streamlined, regardless of the time of day, size of the load, or the number of people working.
To enact this plan gracefully, there was a lot of communication that went on between customers, employees, interchange partners, and even suppliers. PSR saw lots of change in the industry including the following:
New regulations regarding reservations
The need for explicit demand statements and profiles
Sticking to schedules no matter what (and the implementation of incentives to do so)
Rules regarding the consistency of each car's load
Demurrage fees (and making sure they were paid when due)
Without communicating all of this to everyone affected, the new policies and procedures would've never worked.
It Manages Capital and Operating Costs
Operations and locations (like hump yards and such) were removed. Why? Because this not only added time to the whole railroad process but also cost.
Alongside this, they also reduced the number of people working on sites and vehicles. This meant they were focused on cross-training crew members to be multi-skilled. In the long-term, this will save railroad companies in operating costs. However, they did have to shell out for this training (although, with the amount of money they're now saving, this wasn't such a problem).
At the same time as all of this, PSR guidelines meant that managers could focus on effectively buying much-needed capital assets and use them to their full potential.
It Places More Importance on Maximizing Asset Usage
In simple terms, precision scheduled railroading meant that railways could maximize and optimize the usage of all their cars and trains. Here are just a few of the ways they managed to do this:
Running heavier and longer trains (you'll find out why this is also criticized as well as applauded in the next main section)
Making the switching process more seamless
Discontinuing the use of some locomotives and railcars to reduce the total number working
Speeding the railcars and locomotives up
Decreasing the dwell time
Coming up with a more effective way to turn cars around between journies
It Allows For Cultural Change
Precision scheduled railroading creates a chance to turn the rail industry into a truly team-based environment. How? Well, it offers managers the time to promote and put their staff through training as and when they deem necessary. This allows them to move up the ladder, rather than just sitting stagnant for what may feel like an eternity.
To support this new way of working, managers, CEOS, and everyone in-between is trying to foster a sense of discipline, urgency, decision making, openness to change, and so much more throughout their respective companies.
It Reduces Network Confusion
This ties into our earlier point on "balancing and simplifying the network". Those who have taken on these new policies, procedures, and mindsets have done the following to streamline and minimize complexity:
Got rid of origin to destination pairs that weren't making a decent amount of profit
Increased their point-to-point trips
Increased the number of multiuse trains on their lines
Negated any nonessential tasks or activities
Made sure that their lines adhere to a daily schedule
The Criticisms of Precision Scheduled Railroading
As you can gather by now, precision scheduled railroading is a controversial topic. So, of course, we have to take a look at the specific criticisms regarding it.
It Is Short-Sighted
A lot of people state that precision scheduled railroading is incredibly short-sighted. They believe that those who are "for" this implementation of policies and procedures are placing more importance on short-term gain rather than looking at the bigger, future picture.
The headcounts of the crews and the expenses budget are drastically reduced once PSR has been implemented. While this seems good right now, it may mean that railways can't handle a large boost in traffic volume in a financially strong economy.
Moreover, the cuts to the expenses budget generally lead to service disruptions when extreme weather hits or seasonal freight surges happen. Why? Because there is far less redundant capacity in the system. When you think about this, you really start to see why PSR is such a controversial talking point.
It Doesn't Allow for Volume Growth
Precision scheduled railroading places a huge amount of emphasis on the railway's margins and the ratio of operation. People are arguing that this is the wrong area to focus on in this industry.
The easiest and most effective way to ensure railroad companies have better margins is to turn their backs on businesses that have lower margins themselves. With the standard rules and regulations, this violates the common carrier goal. However, with PSR, it is pretty easy to do since they're trying to compete with the STB (or Surface Transportation Board).
It Doesn't Align with Quality Customer Service
Railways that have implemented these all-new policies and procedures have had to shift their focus to cost efficiency and margin improvement, rather than customer service. They have to build longer trains that can withstand more weight in order to improve their financial state. In doing so, they have to forget about the quality of their service since it's impossible to provide now.
While they could have simply raised their customer's prices (as a lot of businesses do at some point or another) and kept the amazing service quality, PSR suggests that they keep the prices the same but reduce the service quality. It's safe to say that many shippers and receivers are not happy with this.
The Trains are Too Long
People have also expressed their worries over the length of the trains used in the new PSR scheme. Why? Because they can block crossings! If that isn't a good reason to be a little bit worried, we don't know what is!
The longer trains can be anywhere from 7,000 feet to 11,000 feet. However, some are seen to be around 15,000 feet and 16,000 feet.
Shockingly, there aren't any rules or regulations that have placed limits on how long a train can be. With that being said, the railroads are fully aware of the lengths of their crossings and should manufacture trains to suit them.
There isn't any data on whether crossings have been blocked or not. But work has begun to find this information out so the authorities can clamp down on this side of the PSR if necessary.
There Aren't Enough Staff
Democrat committee members and the like have been talking about the crew size a lot. They continue to quote research that proves having additional staff members onboard a train has astounding benefits.
While those rooting for the PSR have stated that there isn't any evidence to suggest the above is true, longer trains are probably going to bring up circumstances where a bigger team is necessary. Situations like blocking crossings, breaking down, and such will always happen — and nine times out of ten you need a handful of people to help, not just one or two.
It Affects Crew Health and Morale
Precision scheduled railroading has contributed to the decline in morale and the quality of the working conditions. This is largely due to the fact that the railroads are trying to decrease the number of people working while simultaneously expanding everyone's roles and responsibilities.
Which Railroads Are (and Are Not) Using Precision Scheduled Railroading?
Right, we've looked at the history, the positive bits, and the negative aspects of PSR, so it's about time we have a gander at which railroads are using these new policies and procedures.
Illinois Central Railroad (IC)
Illinois Central Railroad (Now part of Canadian National) was the first one to have precision scheduled railroading implemented. Hunter Harrison himself started this way of working at IC in 1993 since he was the CEO. 
Canadian National
Canadian National was the next railroad to have precision scheduled railroading put in place. Again, Hunter Harrison implemented PSR directly after arriving in 1998. He retired from CN, but not from railroading, or PSR implementation.
Canadian Pacific
The man himself was asked to become the leader of the Canadian Pacific railroad in 2012. Harrison accepted and went on to implement PSR here as well.
CSX
In 2017, after a fight over money can control, CSX Transportation hired Hunter Harrison. He was hired with the understanding that he would implement PSR, which he immediately went on to do. However, this would be Harrison's last PSR implementation. He had been ill when hired by CSX and became more ill in his early month at the railroad. He died just 8 months later after taking on the CEO role. However, his hand-picked successors took over carried on with the implementation process.
Union Pacific, Norfolk Southern, and Kansas City Southern
These three railroads have since gone on to participate in the industry overhaul that is precision scheduled railroading.
Each of the railroads we've just discussed has seen an improvement in their operational ratio and increased cost improvement. To give you some numbers, improvement of railcar usage was up by 17 percent, the productivity of each employee was up by 8 percent, the train speed increased by 19 percent, and the dwell time decreased by 15 percent.
Although it should be noted that these stats were more noticeable in CSX, many have argued that this is due to the percentage of the market that this railroad dominates.
Unfortunately, upon revamping their procedures to be in line with PSR, 20,000 railroad workers were laid off in 2019. Whether some of the later railroad companies knew this was going to happen remains unknown — and widely disregarded anyway. The fact is that thousands of people lost their jobs.
Now, let's take a little peek at BNSF, shall we? These guys didn't follow suit with the whole PSR implementation.
BNSF (Burlington Northern Santa Fe Corp.)
So far, we've been discussing those railroads that have implemented this way of working. However, BNSF, a Class I railroad, has shunned the idea. While other Class Is are closing their yards and getting rid of lines, BNSF is doing something else entirely — they're building logistics centers for their customers.
Somehow, this railroad managed to escape the pressures to improve their operating ratio and instead, are expanding, rather than contracting.
Popping up the logistics centers is a tactic to improve customer service and start serving merchandise and bulk customers too. Think of them as rail-served business parks. They are there to help businesses who need to move a load of cargo at the same time.
Put simply, BNSF values its customers more than its margins. Thus, PSR doesn't work for them since this way of working focuses on less is more (for the railroad companies, bear in mind, not the customers).
How Has Precision Scheduled Railroading Impacted the Rail Industry?
Looking at the way precision scheduled railroading has impacted the rail industry seems like a good way to end this dive, doesn't it?
More Railcars and Less Pay
Even though the railroads have been consolidated and the number of locomotives online is generally lower, the total number of railcars has actually risen compared to previous years. From the various graphs, charts, and statistics, it can be deduced that this is due to the fact that other networks needed to increase their intermodal cars.
As you now know, salaries and workforce expenses were used as a great way to reduce operating expenses. Class I railroads employed 4.46 percent fewer people than they did in previous years.
Better Fuel Efficiency on The Rails
Since newer, more efficient locomotives have been manufactured and rolled out across these PSR railroads, they have seen a drastic improvement in their fuel efficiency and composition. Precision scheduled railroading has only recently come out as an industry commonplace practice. So, we should expect to see even more fuel efficiency improvements over the next ten years.
Increased Speed
This one is pretty obvious, but it's still worth mentioning as it made a huge impact.
Under PSR rules, locomotives make fewer stops to reshuffle and/or power down. This is the main reason for the increased speed. However, the newer trains are just faster in general which has definitely played a part in this.
Prior to precision scheduled railroading, railway companies emphasized the importance of train length. If a train didn't meet incredibly precise length requirements, the entire journey would be canceled. But pre-PSR has seen the focus shift from this to cars and sticking to strict schedules.
Tighter Schedules and Decreased Dwell Time
The implementation of the new policies and procedures meant that every shipment has to be on time. Thus, tighter schedules were introduced. This saw the need for hump yards decline — and dwell time along with it.
Let's have a look at what dwell time is so we can understand why this is so great.
If a train went from point A to point B and, before PSR, it took 10 days since it went through 5 hump yards, with PSR, it wouldn't get touched that many times and so, would reach its destination in half the time!
Where does dwell time come in? We're just about to get to that!
Each time a car chugs into a hump yard, it is increasing its dwell time. The longer it stays there, the more dwell time it receives. PSR has managed to decrease this from highs of 48 hours down to almost 0 (sometimes).
The Bottom Line
Whichever way you look at precision scheduled railroading, there are advantages and disadvantages. But still, we can't change the fact that most Class I railroads are using this system. Whether that's to satisfy their investor's wallets or because it truly helps their customers is a debate that's probably left to those involved. After all, we've got to pick our battles!
References
https://www.breakthroughfuel.com/blog/precision-scheduled-railroading/
https://www.up.com/customers/track-record/tr091019-precision-scheduled-railroading.htm
https://www.freightwaves.com/news/what-is-precision-scheduled-railroading-psr
https://www.supplychaindive.com/news/6-charts-psr-rail-speed-dwell-OR/571792/
https://en.wikipedia.org/wiki/Precision_railroading
https://www.bcg.com/publications/2020/going-beyond-precision-scheduled-railroading
https://www.supplychaindive.com/news/bnsf-PSR-adding-logistics-centers/559962/
https://www.freightwaves.com/news/union-leaders-criticize-precision-scheduled-railroading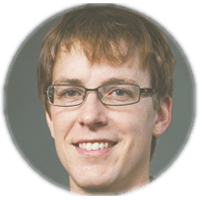 An environmental designer/engineer by vocation, a railfan by avocation.