Trains Operate in Horrible Weather.  How?
Trains play a vital role in the economy whether by delivering passengers to their intended destinations or moving freight along in the supply chain.  So when weather forecasters predict rough weather, many people wonder if the trains will run and how their freight or trip to work will be impacted. 
Sometimes weather does cause cancellations and delays, but trains are designed to operate in all kinds of weather. A combination of experience and technology allow railroads to keep the trains running, even when Mother Nature let's loose. Let's look at how trains are able to keep operating even in the worst of conditions.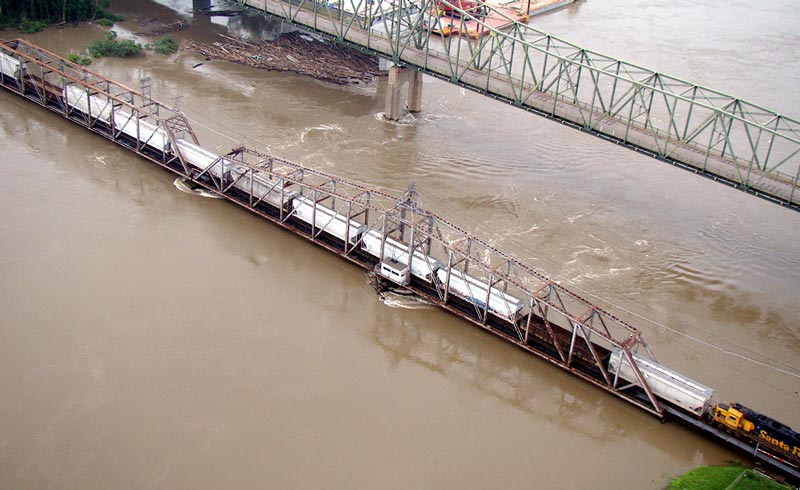 Expected versus Unexpected
Inclimate weather can be one of the biggest challenges for transportation companies to navigate, and railroads are no different.  Forecasts, either from private or government meteorologists, are the first line of defense. Planning for what's coming, what's forecast to arrive in the next day or so, could involve re-routing freight trains, adjusting the weight of the train or readying the railroad's Snow Team. The railroad must plan for the expected, even if that weather never arrives.
The much harder job is to plan for the unexpected. Weather events can spring up at a moments notice, forecasters can be wrong, or weather that appeared tame can instantly turn for the worse. So railroads have plans in place for nearly every kind of weather emergency. Those plans are conveyed before hand to employees and the dispatcher can act on those plans – and new information – nearly as instantly as the weather can change.
Dangerous Winds and Water
Trains are designed to withstand wind.  Their weight, coupled with the design of the rails, makes it unlikely (but not impossible) that strong winds will derail a train.  Aware of the weather and the general abuse a rail car in motion must handle, loads are securely attached. In bad weather engineers will slow the train, to be ready in case of the unexpected. It is unlikely for a train to derail due to high winds.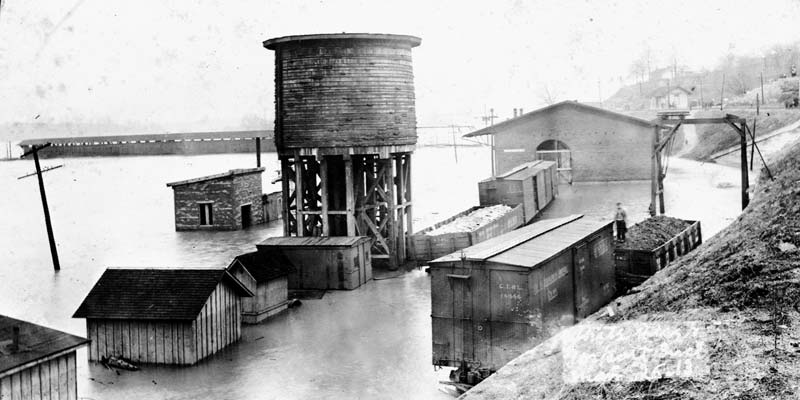 Rain and flooding have always been trouble for the railways. Floods or big rain events can cause washouts or worse.
A recent technological answer is the deployment by railroads of sensors that can help detect weather trouble or trouble that weather has caused, on the tracks. Similar to a water alarm you might have in your basement, these connect with the dispatcher in case of flooding.
And of course, modern locomotives have windshield wipers. Big windshield wipers for big windshields.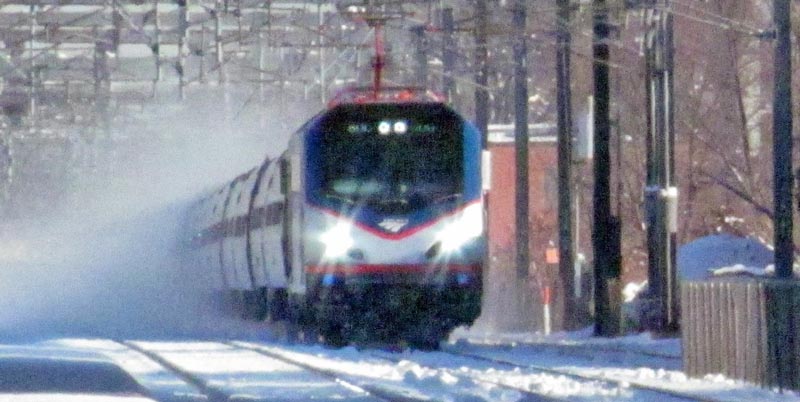 Alarmingly Cold, Snow, and Ice
Many believe that there is no sight more beautiful than freshly fallen snow, even a snow covered train – but the railroads would rather avoid the trouble that snow can bring. The weather however can not be avoided, just planned for.
Snow and ice are just as tricky for trains as for your car.  Even without the snow, trains and railroad tracks can be affected by extreme cold. Moisture in airbrake hoses can freeze and plunging temperatures can bring ice that causes havoc everywhere including at switches – which can freeze in one position.
So, many rail companies take a proactive approach by upgrading tracks and technology when the weather is more favorable. During disturbance free periods, they invest new technology and infrastructure into their network and execute relevant training and emergency programs with their employees ahead of the flood and winter months.
How Technology Helps
While being proactive is key in preventing potential weather related accidents, it is impossible to keep rails dry and clear at all times.  Therefore railroads have tools in place to help once weather starts becoming rough. 
In mountainous areas where snow avalanches are common, some railroads make use of pneumatic cannons to help prevent those avalanches by causing small, controlled, snow slides. In the past in the United States, and in mountainous areas of Europe, railroads build snow sheds which prevent snow from blocking tracks so that service will not be interrupted.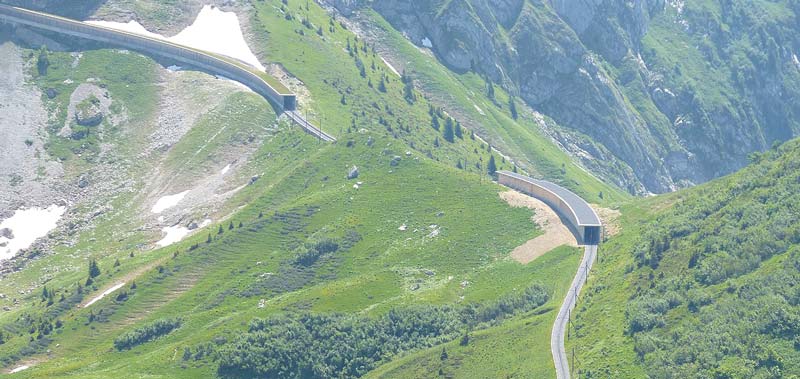 The same smart sensors used for high water flooding detection, measure temperature, again, allowing the railroad to identify tracks impacted by weather. More of these short and long range sensors, some call them micro weather stations, are being installed every year. Data collected varies by sensor, software and manufacturer, but can include temperature, humidity, wind speed and direction, lightning distance, dust accumulation and amount of precipitation.
Snow Plows on Locomotives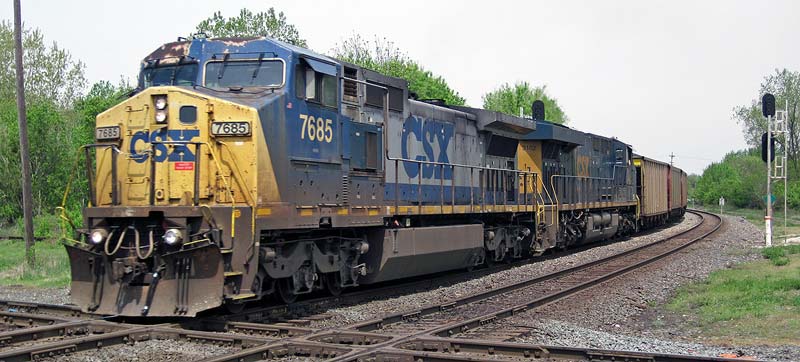 Many modern diesels have a small plow attached to the front of the locomotive which can be useful to keep the rails clear in snow of maybe a foot or so deep. But when Mother Nature really dumps the snow, the railroads rely on a variety of specialized equipment to keep the trains moving. Bulldozers with plows can clear in yards and other areas accessible by road, though they generally do not clear track. That job is left to larger plows like a wedge plow or, more commonly these days, a Jordan spreader outfitted with large plows that hang off either side of the spreader and both plow and direct snow away from the tracks.
And when the blizzard roars over the railroad, or when drifts reach over the hood of a diesel locomotive, the railroads call out the big guns. Literally nicknamed "war wagons", these plows don't actually carry guns, but they do carry a huge rotary blade. The front of the Rotary Snow plows looks like a large box fan. The snow is sucked into the blades and then ejected as much as 100 feet away from the track by a shute above the rotary blades.
The "War Wagon" on Donner Pass
Advanced Locomotive Technology – Snow's Enemy
Newer locomotives have added advanced features that help mitigate the effects of bad weather.  Air dryers in the brake lines can prevent the main line train brake system from freezing. Heated headlights melt snow and ice.

Railroads in northern climates now use sensor-activated trackside heaters that help prevent switches from freezing so trains can continue moving, and switching from one track to another.
Final Thoughts
As dependent as people and businesses are on trains, it is imperative that they be able to operate in almost any weather condition.  By preparing while the weather cooperates, the railroads are able to show that the best defense is a good offense.  So, next time you are experiencing inclimate weather, keep an ear out for train whistles.  Hopefully, they'll be operating like normal.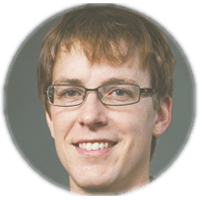 An environmental designer/engineer by vocation, a railfan by avocation.